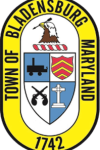 Town of Bladensburg
The Town of Bladensburg, incorporated in 1854, comprises approximately one square mile and is home to 9,600 residents. The Town is rich in history. The Battle of Bladensburg was fought here in 1814 during the War of 1812. Although small in size the Town offers a full slate of municipal services: the Police Department is staffed for 24/7 police protection, while Public Works maintains Town roads and buildings as well as manages the contract for refuse and recycling collection. Code Compliance monitors residential and commercial properties to maintain community standards. The Town collaborates with other nearby towns as the Port Towns in order to encourage business development through infrastructure and façade improvements, the acquisition of historic properties, and the reuse and reconstruction of the Bladensburg Waterfront and Marina.  The Town of Bladensburg was incorporated in 1854, after having been established in 1742 by Provincial Governor Thomas Bladen. The Town operates under a Council-Manager form of government. The governing body consists of the mayor and four Council Members, with two Members elected from each of the Town's two wards. The Mayor and Council serve four-year terms, with the next election scheduled for October 2, 2023.
The Town of Bladensburg seeks a proven, dedicated, responsive and experienced individual for the position of Town Administrator. The ideal candidate will be an experienced leader with a background in town or city management, local governance or public affairs. The candidate will be a strong leader, and a manager with excellent communication skills. The successful candidate will also possess, at a minimum, a bachelor's degree in Public Administration or a related field. A related graduate degree is preferred, and Maryland experience is a plus. The ideal candidate will possess a minimum of five years of senior management experience in a municipal government or public agency involving responsibility for the planning, organizing, implementing and supervising service delivery programs and operations. A candidate who is fluent in Spanish will also be a plus.
COMPENSATION
The Town Administrator for the Town of Bladensburg can expect a salary in the range of $125,000 to $150,000, depending on qualifications and experience. The successful candidate will also receive a competitive benefit package, including participation in the Maryland State Retirement and Pension System.
HOW TO APPLY
The position is open until filled. Letters of interest, resumes and at least three professional references should be sent (email preferred) by 5pm on April 14, 2023 – send to daviddeutsch610@gmail.com
David J. Deutsch, Senior Associate Mercer Group Associates
Email: daviddeutsch610@gmail.com
Cell Phone: 301.343.6033
Click here for a brochure